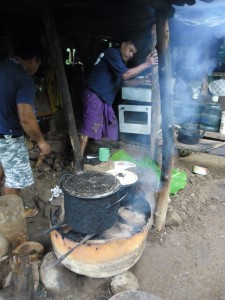 I laughed the other night when I deciphered from a Samoan tv news article that there was a total fire ban in Samoa. I mean – what are the people supposed to do? Most village people cook their food over an open fire! What would a total fire ban be, if you were still allowed to light a fire for cooking? Too many questions. But, I still see umu smoke rising on a Sunday, so I guess they are not going hungry.
But the reason for the fire ban is obvious – there is a drought here. Water is scarce, especially on Savaii, and parts of Upolu. Our own area, up in the Aleisa hills overlooking Apia, that gets its fair share of rain clouds, has had poor water supply since we have been here – and that is nearly four months now. We were told there would be a new sub-main down our road once the budgets had been approved, because they were out of 2″ pipes until after the new financial year started in August. Well, hello, it's October, and no sign of our pipe yet!
We started with connecting into a half inch PVC pipe supplying the non-resident neighbour – who occasionally filled the water tanks for the cattle. Being downhill from us, it meant we could go without water for a day as he called by in the morning to turn the tap on, and returned later in the evening to turn it off – if we were lucky. But that was in the deal, so we got a few water barrels and made do with what we had.
When this even dried up for days because of the narrow pipe,  we tapped into the other neighbour's 3/4 inch pipe and had a more regular supply. That became infrequent as the water authority turned the pressure down during the early part of the week, needing us to buy a pump just to get it up to the header tanks on the roof. It was always available at least once during the week to get the whites ready for church on Sundays – so we made sure to build our higher usage around the days the water flowed.
Somehow I have managed to produce a crop of over 500 tomatoes and 25 sweetcorn off the land, and beans coming out our ears! Another crop of tomatoes that made very poor growth to start with have now leaped into life with more regular watering. The pineapples continue to grow despite the lack of water, as do the staple crops of taro and taamu.
So, I will light no fires, as I am told to do. (Except my gas cooker and mossie zappers, right?) But I will still see smoke arising from around the village next Sunday, as always.